Whatsapp uses mobile phone number for identifying the user. So we need to setup out whatsapp before we can use it. Below are the steps to do it.
Open Whatsapp application
Click on WhatsApp icon on phone to open the application.
When you first open the whatsapp application the screen will look like below:
Allow whatsapp to access your contacts.
Read the Whatsapp 'Terms of Service and Privacy Policy' and click on 'Agree And Continue' button (if you agree with the terms). After that whatsapp will ask your permission to access your contacts. Whatsapp will check all your contacts using Whatsapp and show it in your chats list after completing the setup.
Click on continue and Allow access for contacts.
Register with your phone number:
Type your mobile phone number in the space provided and click on 'next'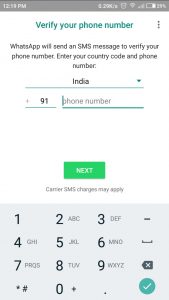 Click OK in the confirmation window.
PS: Whatsapp will send an SMS from your phone. Carrier SMS charges may apply.
Allow whatsapp to access your sms.
Whatsapp verifies phone number via sms or call. For this we need to grand access to read sms.
Click on continue and Allow access for SMS.
Whatsapp automatically sends a verification code to your phone and does an auto detection of it to complete the registration.
In case you did not receive the sms, click on 'Call me' and you will receive the verification code in an incoming call. Type this number above 'Enter 6-Digit code' to verify your phone number.
This step finds the already existing whatsapp backups and restores it. This is irrelevant for a fresh installation. We can skip it by clicking on 'NOT NOW' button.
Adding profile pic is optional here. You can do this by clicking on camera image and clicking a new pic or choosing from gallery.
We have to give a name in this step. Click on 'Type your name here' and enter your name. This can be seen by other people if your number is not saved in their phone.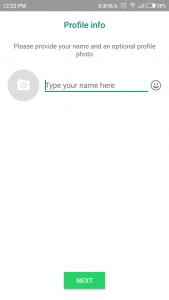 Click on Next and you are ready to use Whatsapp! Enjoy!!!!